History
The Courthouse, located at 2 Main Street in Mornington, was built (with the Lockup) in 1860 for 892 pounds, and was extended in 1862. It was the first permanent courthouse on the Mornington Peninsula, and it is the oldest public building in the Mornington district.
The Courthouse and Lockup constitute a major element in the Mornington Civic Precinct, which includes:
State Savings Bank, 787 Esplanade
Mornington Post and Telegraph Office, 789 Esplanade
Football Disaster Memorial, off Esplanade opposite courthouse
CLVB Memorial Hall, 19 Main Street
Mechanics Institute Free Library, 21 Main Street
These structures are from the earliest period of civic development in the town, however the State Bank is from a later era.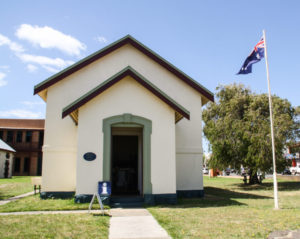 The Courthouse was used continuously from the early 1860s until 1988. All public records pertaining to it are housed at the Public Records Office.
Both the Courthouse and Lockup are classified by the National Trust and have been included as Objects and Sites of Historic Interest in the Mornington Planning Scheme and the former Shire of Mornington Planning Scheme since 1979.
In 1999 a Friends of the Courthouse Association was formed with the objective of ensuring the Courthouse and Lockup remain intact and in community ownership.
In 2000 the Courthouse came under the management and care of NMPT, allowing this cultural asset of the Mornington Peninsula to be preserved for all. NMPT lease the Courthouse from the Mornington Peninsula Shire, who manage the property on behalf of the State Government.
The Lockup is separately managed by Victoria Police.
*Information taken from Graeme Butler's Shire of Mornington Heritage Study, 1984